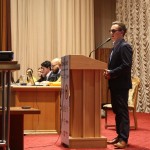 Our former President also ran for the Summer University Coordination Team on Autumn Agora Kyїv 2015 and was elected! We congratulate him and asked him some questions.
Q: "Philipp, you managed to get an amazing number of 233 votes when you ran for a position in the Summer University Coordination Team! Does that mean that you'll take over all the "presidential taks" or what are your plans exactly?"
A: "It was really amazing to receive such a great amount of support! But as much as I would like to be the boss, I will stick to what I applied for. I will redesign the website and make sure publications are available. It will be a lot of work and I will need to learn to do just the tasks I am told to do, and not do everything. It's also a challenge for me."
Q: "You are the only one for two tasks, how will you manage to do that?"
A: "Well, I plan on doing work as soon as possible, so there is time for changes later. Also, we will probably issue an Open Call for helpers, because there is a lot to be done, and the Project could benefit massively if more people would work on it. As mentioned before, I will have to stick to the tasks assigned to me, otherwise I'll die in the amount of work."
Q: "Since you are actually living with another new member of the SUCT, it seems clear that a lot of discussions and planning have already been going on since your election. What about the other two members? Did you already sit together and start the planning?"
A: "Indeed, quite some discussions have already happened. But that's not only restricted to Lucia, and also not to after the elections. We discussed quite a lot before, to make sure that working together would be feasible, and we are on the same page. We also talked to Ander from the Comité Directeur before. As soon as the election results were public, we made a Facebook Chat, both with the New SUCT members and with the old ones. We're eager to get a knowledge transfer as soon as possible, and we will meet already this weekend!"
Q: "What are you looking forward to the most in the upcoming summer of 2016?"
A: "To be done with university and be able to do a SUCT trip along some Summer Universities.
Interview by Katja Sontag