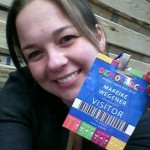 Our former treasurer and vice-president, as well as our current SubCommie Mareike has been elected as member of the Network Commission of AEGEE-Europe, congrats! We wanted to know more about her election and her plans for a NetCom trip.
Q: "Mareike, you have been elected as a member of the Network Commission! Surely, you must feel very happy now. How was it to see your name on the screen?"
A: "I was sitting next to Damien, who was elected as President of Mediation Commission just a few seconds before. I was so still so excited to see his name on the screen that first of all I could not realise what I saw. It was so fast, just a few seconds. But then friends around me started to congratulate me and finally Andrea, the former NetCommie and my mentor brought me back to reality.
But I think I only finally realised it, when we had the first meeting in the evening with new team and started to talk about knowledge transfer and network distribution. After 4 days of Agora, party and not enough sleep everyone was still highly motivated to work."
Q: "Before the agora, did you get a lot of support from friends and your local(s)? Did they have to convince you to run for NetCom or was it your own idea?"
A: "I talked with a lot of people about my decision to run for NetCommie, but first of all it was my own idea, because I felt it is the right moment for me now to become NetCommie. NetCom Andrea and NetCom Assistant Julia pushed me a lot and supported me by answering all my questions, but also my locals supported me. I had a lot of discussions about different topics concerning my candidature and a got a lot of feedback, positive and also sometimes negative, from friends from different locals. I think it was this huge amount if feedback that helps me in the end to candidate for NetCommie."
Q: "When will you start your first trips to visit your locals?"
A: "First of all I have to finish my master until the end of November, therefore I am really busy at the moment. Nevertheless we already started the knowledge transfer period between the new and the old NetCommies and I am sure I will be prepared in December when my term officially starts. Hopefully I can start my first trip in January. I think we all deserved a few peaceful and quite days during X-mas with our family and friends."
Q: "What are you looking forward to most in your term as NetCommie?"
A: "I love working with people, therefore I am really excited to get to know the boards and all the other AEGEEans in my future Network better. I like the idea behind the Network Commission about sharing and caring and I hope we will all have a create time together by working on this. We also have a super cool team of Network Commissioners and I am looking forward to get to know them better and work with them to strength and develop our Network. Certainly one highlight will be the upcoming NWM in Berlin, which takes place in the end of November. I am not officially a NetCommie then, but it will be my first event as a "soon to be" NetCommie and I cannot wait to go to Berlin. The organisation is great so far and we had a lot of amazing applications."
Interview by Katja Sontag