Twice a year we organize a members weekend. This results in around 50 happy students in a house, somewhere outside of Aachen, cooking, learning, playing and partying together.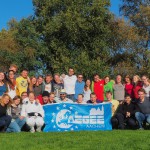 In 2014, we went to Rohren in Spring and to Someren (Netherlands) in Autumn. What makes the members weekends so special is that everyone works together. We do workshops together, we cook together, we party together.. But we also clean together.
If you feel tired of the exam periods, this is the weekend to regain energy and get motivated again! Members weekends usually take place around April and Oktober.