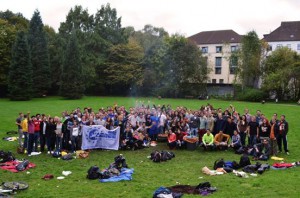 The new Erasmus students have finally arrived and already had the chance to join a lot of great events organized by AEGEE-Aachen. City Rallys, Pub Crawls, Movie Nights and a Barbecue are just the biggest events to mention. One must not forget the legendary Erasmus Party which took place by the end of September (and which will return in November) and especially the tutor group in which Erasmi from all over the continent are brought together with two Germans to get to know each other and have a more social start into the new semester.
One highlight, as always, will be the weekend trip to Berlin, this time taking place from 22nd to 26th of October. If you want to find out more or even think about joing (until know, a few places are still left), check out the Facebook event!
All of our Erasmus events are announced in the Facebook group Erasmus Aachen 2014/2015. If you want to become active yourself or have any suggestions concerning our program, contact us :).