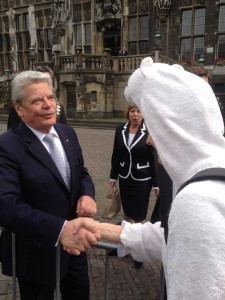 Two days ago the German president, Joachim Gauck, visited Aachen.
Being a man of the people, he shook a lot of hands. It was to our great pleasure that one of the hands paws belonged to our beloved mascot, the AEGEE-Aachen Polar Bear.
Gauck had to smile and said: "It is a really nice costume that you are wearing" (in German of course).
Inside of the costume was our member Dominik Stengele, whom we thank for spontaneously taking advantage of the situation. Actually, he was just on his way to get some ice cream together with some of Aachen's Erasmus students.