In June, seven people from AEGEE-Warszawa (our twin antenna to be) visited us in Aachen. One of their members, Marta Pąk, was kind enough to write a report about her personal experience in Aachen.
The next exchange will most likely take place between the 19th of September to the 5th of October when AEGEE-Aachen visits Poland again.
If you want to get more information on that topic, join our Aachenawa Facebook Group!
"If I had to describe only my personal experience with this exchange, I would have to start from Wednesday evening, forgetting my luggage in citybus yet in Warsaw, skip Thursday's integration in which I didn't participate because of getting stuck with Asia (AEGEE-Warszawa President) somewhere in Dresden where we were trying hard to get back on the highway and, finally, show you all the photos of myself in the Polar Bear costume. Then it would be a terrible waste of potential!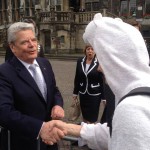 That's why I'm starting with Thursday. As I was told, the evening passed mainly on getting acquainted and integration. On that day also the famous photo of Polar Bear with the President of Germany, Joachim Gauck, was taken (totally not improvised but very well organised). He visited the city due to the exhibition dedicated to the 1200th anniversary of Charlemagne's death, and those of us who arrived on time had the opportunity to see him. Well, I didn't.
The mutual programme for all AEGEE-Warszawa members who finally arrived started on Friday morning with sightseeing in beautiful Aachen. We were shown the most interesting points of the city. From the market square, next to the Cathedral, the university campus, "Kreislauf des Geldes" fountain, we even tried the "spa" water gushing from the wall (everyone agreed that the prohibition of consumption is hung there for a reason). We also climbed a hill where we could admire the city skyline. Benni, our guide, told us there a story about a wise Aachen woman who outwitted the Devil.
At the end of the tour, a little tired, we were taken to the Lindt store. Our eyes immediately lit up and our hearts began to beat faster. How much chocolate, how much happiness! I wanted to scream "oh, Mommy, buy me everything." We left the shop a few pounds heavier and with much wider smiles on our faces. A few moments later we were already sitting comfortably on the grass in a park having barbecue with AEGEE-Aachen, AEGEE-Maastricht and guests from other antennae, celebrating together the approaching holidays. After the barbecue, we had just a quick break to take a shower and change into something more elegant to participate in the Constitutional Drink of the new board.
On Saturday, "slightly" tired, we climbed the highest peak in the Netherlands, 3225m.npm It's not that easy when you've had a rough night and you're pulling a heavy cart full of picnic supplies. But we managed to do it, what of course is captured on photos. And after spending a while on the Drielandenpunt, which is the border of Germany, Belgium and the Netherlands, we'll never believe anyone who claims that it's impossible be in three places at once;) In the evening we met for dinner and we watched a mundial match. In such a large group of new friends it was really hard not to be the loudest supporter of the German team! Two brave girls tried to shout for Ghana, but they were quickly drowned out. In the meantime we arranged a European Night. Personally, I love this event. It's not only an opportunity to try the specialties, which normally you rather do not have access to and learn something about the traditions of other countries, but it also happens that you find out something about your own. For example that the lard for which you fight bravely against custom officers at the airport so they allow you to carry a jar or two for your friends, is neither as traditional or as Polish, as you've been convinced so far. Fortunately it is still tasty! 😉
Sunday, the last day of the exchange, started with (probably) the best ice cream in the world. We were sitting in the sun, eating giant ice-balls and waiting for the bus to enjoy Kornelimünster Marktschänke, traditional fair in a village nearby. We were strolling around small stralls full of antiques, food, strange drinks (greetings from lucky owner of sonchus wine bottle) and many different objects. But the greatest joy we felt was caused by Panda and Polar Bear mascots we saw literally everywhere! It has to be destiny 😉 Furthermore, I'm still impressed by the technology development and by how small (and enjoyable) tracks are already included in the internet maps- to get to the city from bus stop we took a nice path through fields, meadows and forests.
In the afternoon, when we returned to Aachen, the least pleasant moment came: packing and saying goodbye. Some caught the train and spent a night at the airport, some visited gas stations during hitchhiking stops and interchanges. All returned smoothly and without major problems. None of us could believe that the weekend ended so quickly!
Right now, being back in Warsaw, we would like to thank once again all AEGEE Aachen members who contributed to render those days so wonderful! Organizers, hosts, everyone who we met on the occasion of sightseeing or social events. We hope that our future cooperation will be equally pleasant and fruitful! And, of course, now we're waiting for you in Warsaw :)"
Marta Pąk